HUTB's Martial Arts Team Wins 2 Golds, 2 Silvers and 4 Bronzes in the 12th Hunan University Games
2022-09-21 16:21:17
The youth of the students is arousing, just like the surging wave of the Dongting Lake. On September 17, the 12th Hunan University Games Martial Arts Competition, hosted by the Department of Education of Hunan Province, organized by Hunan Institute of Science and Technology, and co-organized by the Hunan Student Sports Association, came to a successful conclusion. Atotal of 506 athletes from 54 colleges and universities in the province participated in this competition. Under the leadership of the coaches, Zhou Shengwen, Li Shuangming and Liang Xian, from the School of Sports and Health, HUTB's martial arts team showed no fear in three days of fierce competition againstthe strong competitors, andwon 2 golds, 2 silvers, 4 bronzes, and 4 fourthprizes, ranking6th in terms ofthe group total score, which manifested the high competitivenessand vigorousnessof ourathleteswho havemade breakthroughs and win honors.
Before the competition, HUTBheld the expedition ceremony forthe sports delegationofthe 12th Hunan University Games. Xiao Xiaoqin, Deputy Secretary of the CPC HUTBCommittee and Dean of the School of Sports and Health, attended the ceremony, where he extended cordial greetings to the athletes who had trained hard, expressed encouragement and affirmation, as well as affectionate care and ardent expectations for the athletes.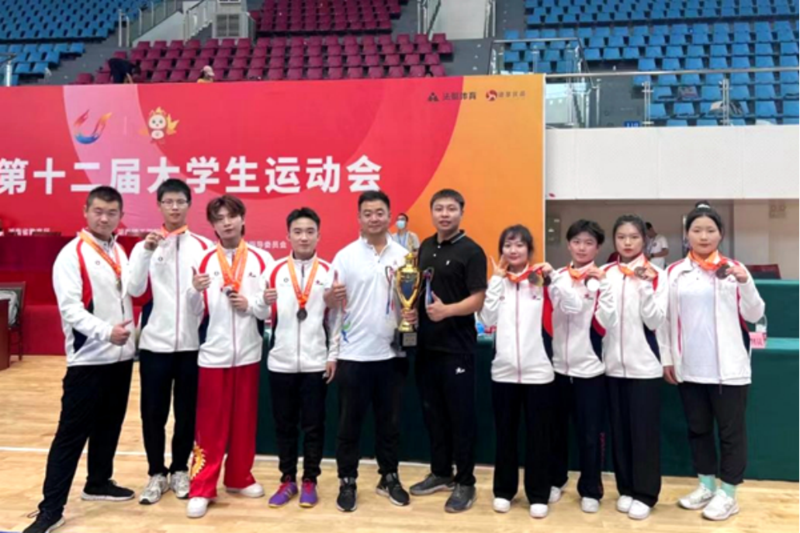 On the eve of the competition, Kuang Yumei, Secretary of the CPCCommittee of the School of Sports and Health, Zhou Wenjunand Tang Yi, Deputy Deans of the School of Sports and Health, and other leaders of the school made a special trip to Yueyang City to cheer on the participating athletes, encourage the team members to show their skills and fight for the first place, and demonstratehow vibrant, vigorous, tenacious and enterprising the university isand howconfident and charming they themselves arein the competition, to add a splash of color to the Games.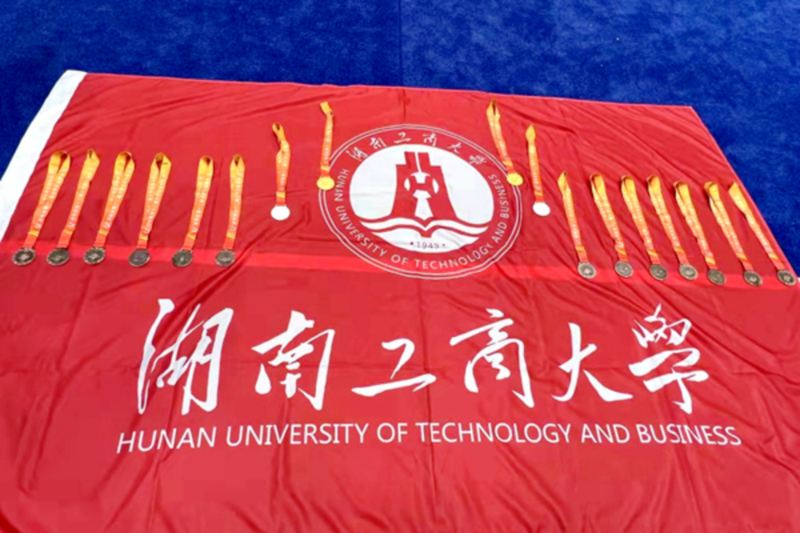 It is reported that whenpreparing for the Games, the martial arts team was not afraid of difficulties and went to the Martial Arts Base to participate in the summer drill camp despite the sweltering heat. The coaches were dedicated to their duties to strengthen the athletes'confidence to face the challenges. They organized and guided various trainings with rigorous standards and strict requirements.
Facing the brilliant results, Zeng Qianru, the gold medal winner of women's traditional boxing, and Yang Fengshuo, the gold medal winner of men's traditional short-weapon game, sincerely thanked the leaders andteachers of the school for their care and support, and appreciated the coaches for their hard work. The team members stated that they would continue to train hard, sharpen their will, and carry forward the fighting spirit of "work hard to the momentof being worn out and beingmoved by yourself", thus striving for new achievements, and making new contributions to HUTB's building itself into a strong sports university. (Reported by Liang Xianfrom theSchool of Sports and Health)