HUTB Holds Thematic Training on
2022-09-27 16:29:13
In order to further strengthen the professional construction of ouremployment guidance team and improve the level and effect of employment guidance, from September 23 to 25, HUTBheld a thematictraining on "Career Planning and Employment Guidance" in Conference Room 801, Building Aof the Economic Management Complex. Yang Liangqi, Vice Presidentof HUTB, attended the opening ceremony. Liu Jibo, Director of the Enrollment and Employment Guidance Division, Deputy Secretary of CPC HUTB Committeeand Employment Specialistsof secondary schools, and all staff of the Employment Guidance Center and relevant teachers participatedthe training.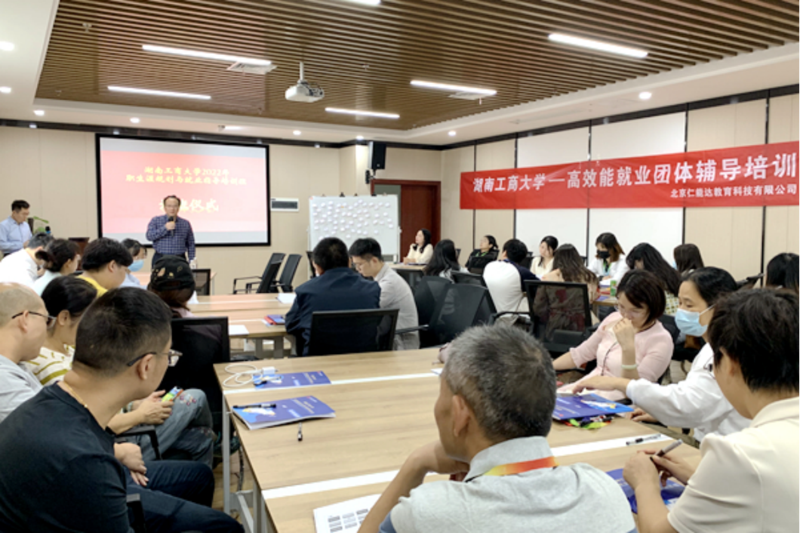 Yang Liangqi, Vice Presidentof HUTB, pointed out in his mobilization speech that employment guidance education is an essentialpart of ouremployment and education work, and it is also a crucial measure for HUTBto implement the decision of the"Stabilizationand Promotion ofEmployment"fromthe Ministry of Education, the CPC Hunan Provincial Committeeand the Hunan Provincial Government. He put forward three requirements: first, to raise awareness and deeply understand the importance of this training; second, to apply what has been learned to practically improve the ability of employment instructors; third, to strengthen the organization and ensure thetraining achieve practical results.
Through case analysis, activity experience, group discussion and other methods, the training systematically delivered the classification and connotation of "group counseling", the core factors of group function, the guidance principles of group activities, the application of competency model in job hunting, and the ways to be a distinctive group leader, the "people and organizations" matching process in job hunting, model of factors influencing job hunting decision-making, etc.
After three days of intensive training and study, everyone believed that the trainingownednew concept and high accessibility, and the teaching contents explainedprofound theories in a simple and coherent way. Many of the contents can be directly applied in the process of students' career planning and employment guidance, which has improved the working level and ability of the employment team, and laid a solid foundation for HUTB to build a high-quality, specialized and professional employment team combining both full-time and part-time talents. (Reported by Career Center)