HUTB Holds the
2022-09-30 16:33:41
On September 28th, the "Gathering Talents in the Star City and Building Dreams in Changsha": Special Recruitment Fair and Exchange on Introduction and Education for Talents in the Software Industry was held in Hunan University of Technology and Business (HUTB), which was jointly organized by HUTB, Changsha Municipal Human Resources and Social Security Bureau, and Changsha Municipal Bureauof Industry and Information Technology.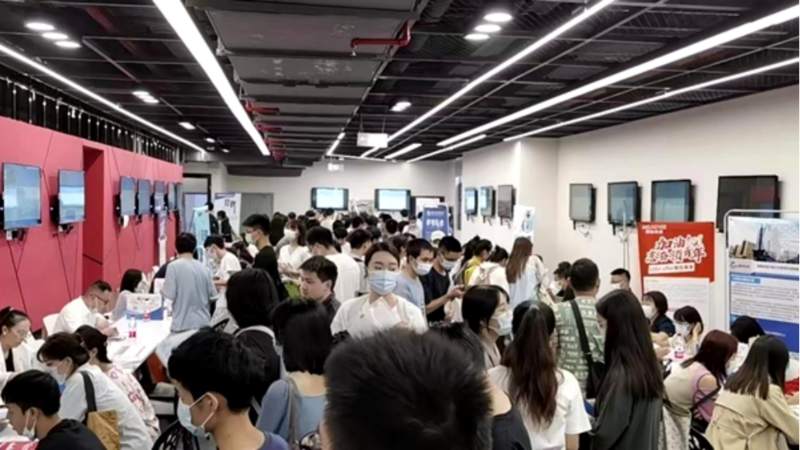 Support of talents is indispensable for the prosperity of an industry, and talents are the key to the healthy development of the software industry. Through the tripartite linkage amongthe government, university and enterprise, focusing on the software talent training by integrating production and education, the exchange was held centering on the industry development methods and the ways to educate and introduce talents, which will greatly promote the coordinated development of local "industries + talents", so as to seamlessly connect talent training with industry employment needs, truly empower the construction of local talent training system, and provide substantive intellectual support for the high-quality development of Changsha's software industry.
HUTB signed a cooperation agreement with the Changsha Software and Information Technology Service Industry Promotion Association for the introduction of software talents, and anothercooperation agreement on the university-enterprise co-construction of "Employment and Practice Base" with Hunan Datang Xianyi Technology Co., Ltd., Hunan Yonyou Software Co., Ltd., Hunan Onein Co., Ltd., and Tuliu Group Co., Ltd..
The job fair was in full swing, and many industrial chain companies recruited talents on the spot, precisely connecting enterprises with talents. The companies participating in the fair included 45 high-grade ones such as Talkweb Information SystemCo., Ltd., Hunan Xingsheng Youxuan Electronic Commerce Co., Ltd., Hunan Zhenghai XiandaiLaboratory Equipment Co., Ltd., covering numerous industrial chains such as the mobile Internet and application software industry,inspection and testing industry, providing 2,561 positions includingsoftware engineers, test engineers, product managers, sales, financial staff, etc., and attracting more than 600 graduates; the companies received 1,115 resumes in total, and 207 talents reached initial employment intentions.
Jiang Huan, a student majoring in computing science and technology, said that, "I hope to find a job in Changsha oriented in computer science, and in this occasion there will be many companies in the IT industry gathering here in the city, offering me with more choices; and more importantly, I can communicate face-to-face with the HR of my favorite enterprise to find a suitable position for myself."
Since the start of the autumn campus recruitment for 2023 graduates, HUTB has carried out campus recruitment activities in an orderly and efficient manner, helping the graduates to be fully employed in higher quality. (Reported by Enrollment and Employment Guidance Division)