2022 (the Eighth) HUTB College Students Art and Cultural Festival Officially Opens
2022-10-31 15:29:47
The 2022 HUTB College Students Art and Cultural Festival opened in the Yingcai Lecture Hall on the evening of October 21. With the theme of "Let the Beautiful Flowers of Youth Bloom and Strive for a Brighter Future," the festival, in its eighth edition, features 17 activities in four categories, including "Youth, Great Minds," "Youth, Civility," "Youth, Ecological Entrepreneurship" and "Youth, Culture, Sports and Art."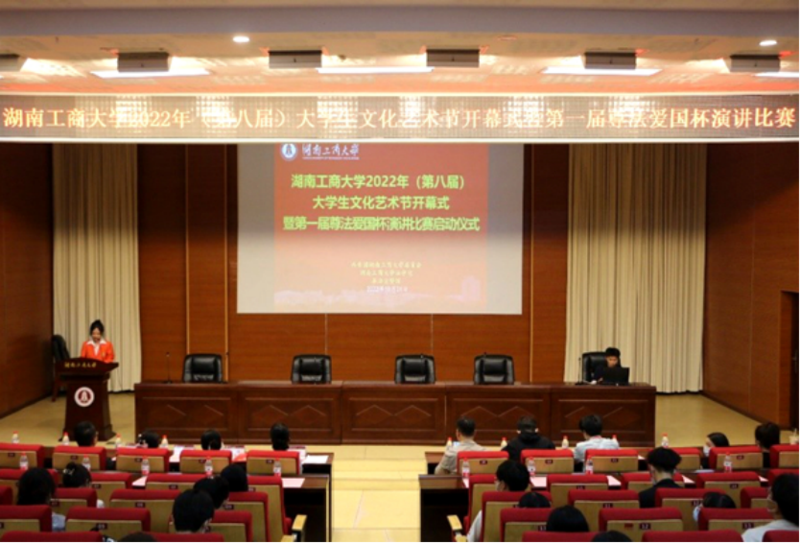 The opening ceremony was hosted by the HUTB Youth League Committee and organized by the School of Law & Public Administration. Leaders of the HUTB Youth League Committee, representatives of teachers and students of the School of Law & Public Administration, and secretaries of the Youth League Committee of secondary schools attended the ceremony. Yang Jia, Secretary of the HUTB Youth League Committee, delivered an opening speech and announced the opening of the festival. Subsequently, the launching ceremony of the first Patriotism& Law Cup Speech Contest was held.
Lawyer He Junfeng, an outstanding alumnus of the School of Law & Public Administration and founder of the Oath Hall of Respect for the Law, addressed the event via video link. He emphasized the importance of respecting, advocating and safeguarding the Constitution. Wan Xuan, a student from Class 2202 of Digital and Intellectual Law, spoke as a representative of the participating students and called on all students to turn their patriotism and respect for the law into a fundamental belief.
Yuan Lu, Deputy Secretary of the CPC Committee of the School of Law & Public Administration, expressed the hope that this competition will enable students to have a deep understanding of and enhance faith in the rule of law, build a habit of learning the law, promote the society-wide observation of law and conscious application of the law, broaden college students' knowledge of judicial activities and related information, and promote the university's education of public civility based on high moral standards and observation of law.
At the end of the event, all attendees stood up, faced the Constitution and solemnly swore together. The launching ceremony of the Patriotism & Law Cup Speech Contest marked a good start for the art and cultural festival. It will also further nurture a good education atmosphere for learning about the legal system on the campus and raise the students' awareness and consciousness of abiding by and using the law.(HUTB Youth League Committee)