[Rednet.cn] HUTB Students Participate in Volunteer Teaching and Bring Warmth to Village Students
2022-07-15 09:44:26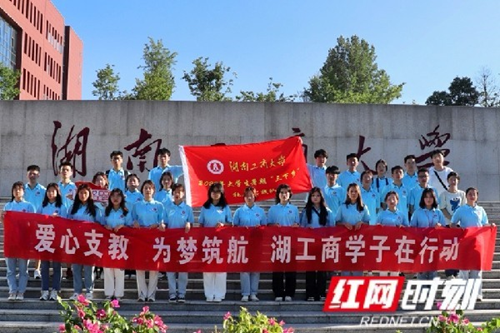 HUTB carries out the summer "Sanxiaxiang Program" social practice activities. Photo by Zhao Jiewei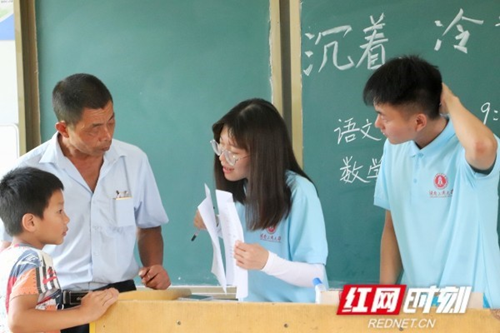 A volunteer teacher introduces the program to a local student. Photo by Zhang Jingxuan
Rednet Moment, July 13 (Reporter Pan Jin, Intern Liao Fang, and Correspondents Wen Zuoshi and Zi Guanglong) "Big brothers and sisters, I'm so happy to see you again." On July 12, HUTB carried out the summer "Sanxiaxiang Program" social practice activities, and organized and dispatched a volunteer teaching group to Zhuobi Village and Zhongyuan Village, Longxipu Town, Xinshao County, to care for stay-at-home children and support grass-roots education. Children from the Zhuobi Primary School and the Zhongyuan Primary School kept talking excitedly to the volunteer teachers.
Zhuobi Village was the designated poverty alleviation village for HUTB from 2018 to 2020. After successfully finishing the poverty alleviation work, the poverty alleviation team returned to HUTB in May 2021. Despite leaving the village, HUTB kept thinking about the village students. In the summer vacation of 2022, HUTB selected and dispatched 42 teachers and students to the Zhuobi Primary School and the Zhongyuan Primary School in the neighboring village to carry out 15-day summer volunteer teaching activities.
Upon arriving at the Zhuobi Primary School, all the teachers and students of the volunteer teaching group participated in a meeting with the leaders of the Education Supervision Office of Longxipu Town, local village cadres and teachers. At the meeting, all the participants decided on the special arrangements for the volunteer teaching work. A local leader said: "Summer vacation is a window period of education for children in the mountains, especially those left behind. The HUTB volunteer teaching mission is a valuable and meaningful activity, which provides a strong supplement to our education and teaching."
On the afternoon, the volunteer teaching group organized the registration in the Zhuobi Primary School and the Zhongyuan Primary School. A total of 217 students participated in the activity. In the following half a month, HUTB students in the volunteer teaching group will leverage their professional advantages, combine theory with practice, bring featured courses such as Party history study, summer counseling, scientific experiment, safety education and legal education to the local children, and strive to stimulate the children's interest in study from multiple aspects and angles to enrich their vacation.
Since 2015, the HUTB volunteer teaching group has continuously carried out summer volunteer teaching activities in 12 villages in Xinshao County, Xinhua County and Guzhang County. Adhering to the philosophy of bringing knowledge to rural areas and supporting the children who live in the mountains to pursue their dreams, the volunteer teaching activities have benefited more than 8000 local children.
Link:https://moment.rednet.cn/pc/content/2022/07/13/11520726.html