The Special Investigation and Survey of High-level Undergraduate Education in HUTB Carried Out by the Expert Group of Hunan Provincial Department of Education
2022-11-29
According to the spirit of the Notice on Special Investigation and Survey of High-level Undergraduate Education carried out by the Hunan Provincial Department of Education, on November 23, the expert group of the Hunan Provincial Department of Education including Liu Zilan, Vice President of Hunan Normal University, and five other members jointly made a special investigation and survey of high-level undergraduate education in HUTB. The briefing meeting was presided over by Zhang Ling, Vice President of HUTB, and attended by the heads of relevant departments of the HUTB.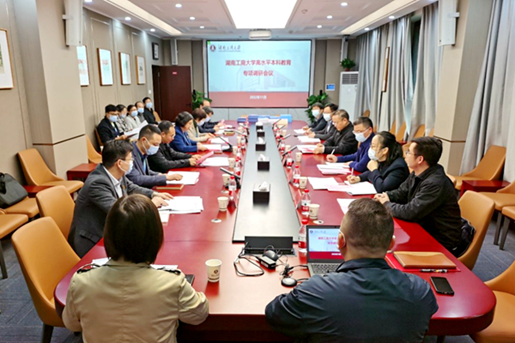 Liu Zilan, the leader of the expert group, clarified the purpose, significance and requirements of carrying out this investigation. On the basis of understanding the actual situation of the undergraduate education construction of the universities and colleges, especially the existing puzzles and difficulties, the investigation and survey work can provide support for deepening the undergraduate education teaching reform, and strengthen communication and exchange between universities and colleges, so as to promote the intension-type development with high-quality of higher education in Hunan Province.
Liu Daobo, Director of the Academic Affairs Division of HUTB, reported the high-level undergraduate education of HUTB to the participants from four major aspects: the general situation of the university, the characteristics of personnel training, the main teaching practice, the current problems and future construction plans. She pointed out that since 2019, especially since the first HUTB Party Congress, HUTB has further defined its orientation of running a university and the goal of personnel training, adhering to the educational concept of integrated development of "new engineering courses + new business courses+ new liberal arts courses" and science, and leaving no stone unturned to promote education and teaching reform, so as to significantly improve the ability and quality of personnel training in all respects.
In the free-exchange session, the participating experts had an in-depth exchange with the leaders of HUTB on the cultivation of outstanding talents, major and minor, micro majors and so on.
After the meeting, the expert group specially came to the teaching building to view and assess our teachers' teaching. In the afternoon, the expert group also consulted relevant supporting materials, made in-depth exchanges with the representatives of teachers and students of our university, and took field visits to the Innovation and Entrepreneurship Creativity Park, Chufeng Academy, scientific innovation base and teaching laboratory of the Xiangjiang Laboratory.
The expert group fully affirmed and highly praised the teaching management achievements and talent training quality of our university. Our university will take this survey as an opportunity to strengthen communication and exchange with other universities and colleges in Hunan Province, so as to continuously promote the high-quality development of undergraduate education. (Reported by Song Mingyue, from the Academic Affairs Division of HUTB)