HUTB Organizes 2023 Spring Fire Drill Activity
2023-04-03
Spring is a high-risk period for fires, and in order to prevent disasters, strengthen the fire safety awareness of our university's teachers and students, enhance their understanding of fire regulations, and effectively consolidate campus fire safety, HUTB organized the 2023 Spring Fire Drill activity on the afternoon of March 30 at the basketball court in the north campus. The leaders of the North Campus Management Committee, Security Division, and School of Continuing Education, along with more than 200 teachers and students, participated in the drill.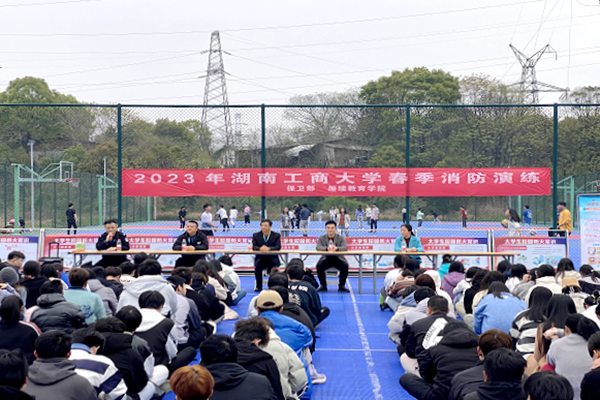 Chen Tianxiao, Deputy Secretary of the CPC Party Committee of the School of Continuing Education, delivered a speech at the event. He emphasized the importance of campus fire safety and the urgency of learning fire safety knowledge. He expressed his hope that all the teachers and students participating in the drill would truly acquire fire safety skills that would benefit them throughout their lives.
During the fire safety lecture and training session, Liu Tiehua, Instructor from Hunan Puxiao Lexiang Fire Safety Service Center, explained the basic knowledge of emergency evacuation and demonstrated the proper use of fire extinguishers and gas masks.
Following that, the university carefully organized five practical experience sessions, including simulated fire escape exercises, fire extinguisher usage, laying and assembling fire hoses, trying on gas masks and firefighting uniforms, and practicing fire rope tying. The students had the opportunity to apply the techniques they learned, such as "bend down, cover the mouth and nose, feel the wall", "look, shake, pull, and spray", and "30-to-2", in various scenarios. They experienced smoke tent escape, practiced using fire extinguishers, and performed hands-on exercises with firefighting equipment.
Through this integrated fire safety class, which included theory, drills, experiences, and hands-on exercises, the participating students, faculty, and staff expressed their full satisfaction and a sense of accomplishment. (Reported by Yang Lei from the Security Division)