Xiangjiang Laboratory and HUTB Hold Exchange Symposium with Huawei
2023-05-11
On May 10, an exchange symposium between Xiangjiang Laboratory, HUTB, and Huawei took place in Conference Room 1210 in the Economic Management Complex. The event was attended by Chen Xiaohong, CAE Academician, Director of Xiangjiang Laboratory, and Secretary of CPC HUTB Committee. Also present were Yi Mianyang, Vice President of HUTB and Deputy Director of Xiangjiang Laboratory, Yang Weijun, Senior Vice President and Deputy Lead of the Strategic Reserve of Huawei, and Li Youwei, Deputy General Manager of Huawei's Hunan Government and Enterprise Division. The heads of relevant departments from both sides also attended the meeting.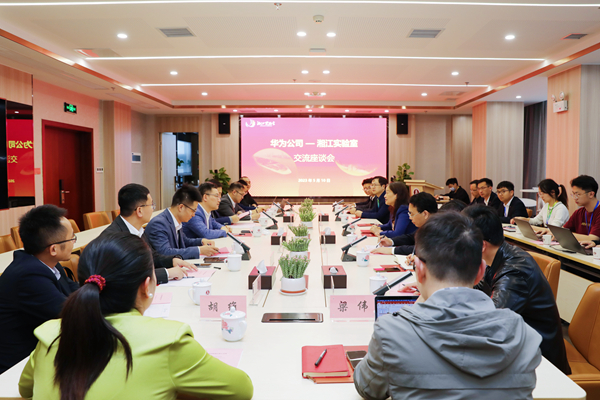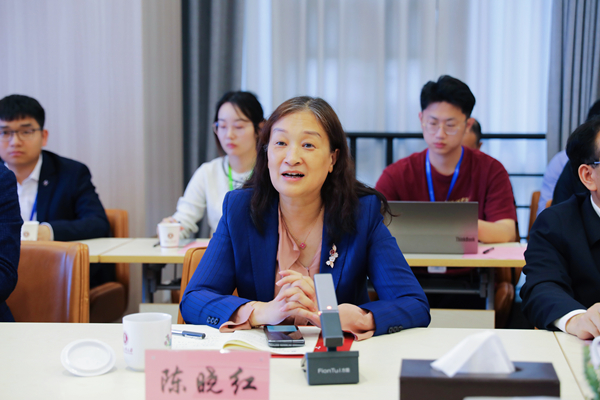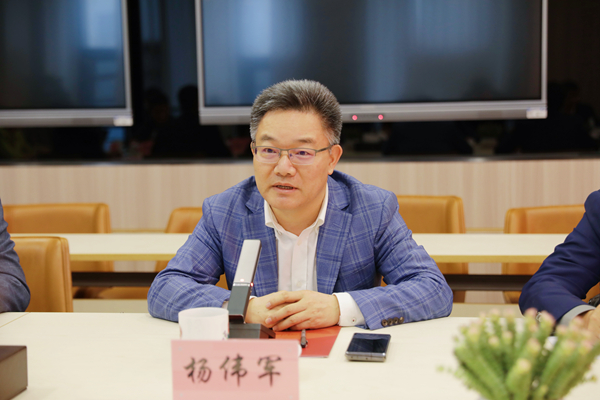 Academician Chen Xiaohong warmly welcomed Vice President Yang Weijun and his delegation's visit. She expressed that, against the backdrop of building a digital China, the strategic cooperation between Xiangjiang Laboratory, HUTB, and Huawei has great potential. This cooperation will contribute to the development of digital China, digital provinces, digital cities, and digital districts and counties. The collaboration will focus on areas such as artificial intelligence to better serve the high-quality development of the national and regional economy and society. HUTB is also actively adapting to the new round of technological revolution and industrial transformation. It timely adjusts the direction of scientific research and talent cultivation to ensure that the research outputs and the cultivation of high-quality talents can meet the major national needs. The goal is to nurture talents who are innovative, entrepreneurial, application-oriented, and multidisciplinary, thus becoming advanced professionals in their respective fields.
Vice President Yang Weijun expressed his gratitude for the warm reception from Xiangjiang Laboratory and HUTB. He expressed that in the context of Western technology "decoupling" and the rapid iteration of artificial intelligence technology, Huawei adheres to the path of independent innovation, promoting high-level self-reliance and self-improvement in science and technology. He expressed confidence in the long-term prospects. He expressed his hope to establish a close strategic partnership with Xiangjiang Laboratory and HUTB, fully leveraging the scientific research and talent resources of Xiangjiang Laboratory and HUTB to play a greater role in scientific research, project development, talent cultivation, and industrial practice.
The participants engaged in in-depth discussions and exchanges on the progress of collaborative research.
After the meeting, Vice President Yang Weijun and his delegation visited the various laboratory platforms of the Xiangjiang Laboratory and appreciated the beautiful campus environment of the university. (Written by Zhang Gaoyang and photo by Ling Haotian and Wen Xinyi)